The Power of the Back of the Pack
Comments are off
Jeff Matlow, Guest Blog Writer
I remember the first organized race I ever competed in. It was the Minute Man 10K in Westport, Connecticut. I was all of about 11 years old, and this was the furthest I had ever run in my life. I did the race with my mother. It was only two years earlier when we had started running and this, our first race, was a celebration of our accomplishment.
I remember her and me pacing ourselves together at the race, like we always did through our runs. We didn't care about others, we just ran. It was new. It was fun.
As we got halfway through the race, there weren't that many people visible in front of us. I remember looking behind us. The only thing back there was an ambulance creeping slowly along. No other runners.
I remember my mother telling me to just keep running at our pace. To put one foot in front of the other and keep smiling. "We are doing great," she said. "Just keep moving forward. We are going to get to the finish and nothing else matters," she said.
Just keep moving forward.
When we reached the finish, there weren't a lot of spectators left but those that stayed were cheering loudly. In my memory it was a deafening applause. My mother and I were crossing the finish line together with pride. We were dead last but it didn't matter. We did it.
If I can pinpoint one moment in my life's trajectory that defined everything I am and everything I do, it was that single second of crossing the finish line, dead last, at my first running race.
At that moment I learned that it's not the time it takes you to get from the start to the finish that matters, but the time you have in between.
I learned that pride doesn't come from the outside, it emerges from within you and emanates out.
I learned that, no matter the situation, just keep moving forward.
I haven't finished last in a race since then. Nor have I finished first in a race since then.
I once got a medal for coming in third in my age group for a one-mile competitive swim. But there were only three people in my age group. In a way you can consider that last, or among the first, but not really either.
I train hard. I train focused. I work myself to the best of my ability. But no matter how many core workouts I do (and sometimes it is a lot) I've never had six pack abs and I never will. No matter how many quarter, half, or full mile repeats I do, I'm not keeping up with the lead pack.
Some of my friends are elite racers. Some of my friends are back of the packers. They all train hard and they all race hard. There is no difference between them, just like there is no difference between the first finisher and the last. There is nothing that sets them apart. Except genes.
One group got the faster gene and another the slower. But they both dig deep and push themselves to their limits.
When I've volunteered for the Christie Clinic Illinois Marathon, I am there for every single person. I am cheering and high fiving. I am encouraging, regardless of their genes. I don't care about genes.
It's the people at the back of the pack that inspire me the most. The ones who keep moving forward with everything they've got. The ones whose pride comes from within. The ones who prove why this race—and this sport—is so inspiring to all of us who just strive to keep moving forward.
That is the beauty of running. Inspiration transcends mere genes. Inspiration is everywhere. It's in the middle of the pack giving everything it's got. It's with the disabled who get up day in and day out, against all odds, to do whatever it takes in order to get to the start line. And, more than likely, it's pushing itself to little fanfare, just a few feet in front of the trailing ambulance.
Here's to us all who just keep moving forward.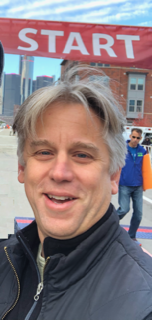 Jeff Matlow is the one in the race that always has a big smile on his face. He is the CEO and founder of imATHLETE and can be reached at jeffruns@imATHLETE.com.