Runners to the Rescue
Comments are off
Jen Wilson, Guest Blog Writer
I love to run, but I'll never run a marathon. I know this about myself and I'm okay with it. Because I run, I have the utmost respect for anybody else that runs, regardless of the distance or the frequency. I'm more of a 5K kind of girl myself, but I didn't start running until I was in my 50s. Starting at this age reminded me that I'm not a spring chicken anymore. It begged the constant question, am I starting this running thing too late in life?And it always has me thinking—what if?What if something happens to me while I'm out running by myself or running in an organized race where the crowds and traffic are thick and emergency help might not get to me quickly?
We live in a time where arrival of medical emergency response has evolved to a fairly consistent and reasonable expectation. Our twin cities of Champaign-Urbana are dotted generously with fire stations, police squad cars, and not one, but two ambulance services—all positioned either in a static or mobile location throughout our cities at any given time and on any given day. That is, until a large event, such as a two-day, largely attended footrace takes over said area, like the Christie Clinic Illinois Marathon Race Weekend!
In addition to the runners, numbering at around 20,000 over two days, we have spectators and volunteers. We redirect traffic to make it safe for the runners and that causes heavier traffic on the roads outside the race area. The traffic and the people, all condensed into certain areas, could make a speedy emergency medical response a considerably slower or delayed process. Developing the plan for getting emergency personnel or emergency vehicles to a patient in this type of event requires months of meetings and incident command planning, with emergency personnel from around the cities attending almost as many planning meetings as the race committee themselves.
We've been lucky at our Illinois Marathon over the years. Since the first race, we've not had to use the emergency response teams for anything as serious as a runner or spectator collapsing from sudden cardiac arrest, which is a malfunction of the heart's electrical system that causes immediate unconsciousness, pulselessness, and absent breaths. But I have worked other races in other cities where it hasn't gone so well.
Every year, I volunteer for the Bank of America Chicago Marathon. On a usually chilly day in October, the event has nearly 50,000 runners, all running a full marathon. 50,000 runners! Now add traffic, volunteers, and spectators to that mix. I am one of the medical tent volunteers at the finish line, where we treat hundreds of patients each year for reasons ranging from temperature-related emergencies to muscle cramps to nausea and vomiting. Yet it also seems that nearly every year, there is a sudden cardiac arrest somewhere on the course, not the finish line. While we treat mostly easy patients lounging on our military cots in our MASH-style tent at the finish line, the serious stuff happens out on the race route.
So, how can you help? Runners and bystanders, as many as possible, the more the merrier, need to be schooled in hands-only CPR. YOU, the fellow runner, could be the first responder to a victim who has collapsed on the course. You can keep their heart going until emergency professionals arrive at your location.
It's not gross. There's no locking lips for this type of rescue; it's just using your hands and pushing hard and fast in the center of the chest until emergency professionals arrive.
If you stop to help, could it shave some time off of your PR for the day? Sure. Maybe five to seven minutes at the most. But you'll be part of a bigger victory for the day—potentially saving someone life.
The Christie Clinic Illinois Marathon race directors, the emergency responders, and I, an EMT and CPR instructor with a lot of background in resuscitation, all feel strongly that a quick, hour-long presentation on hands-only CPR could be beneficial to you and the overall health and success of the race. So strongly, in fact, that we're offering, for the first time ever, a hands-only CPR presentation at 3:00 p.m. on Friday, April 26, as part of the Speaker Series during the Health & Fitness Expo at ARC that day. And, if you're picking up your race packet on Thursday, April 25, in Gym 2 at ARC, another great opportunity awaits you in the form of a crash course to everyone's favorite CPR song, "Staying Alive."
Finally, if we miss you at either one of those events, please stop by the Vital Education and Supply booth at the expo. While you visit, we will show you a quick demonstration on hands-only CPR.
You could be the hero of the day. We can show you how.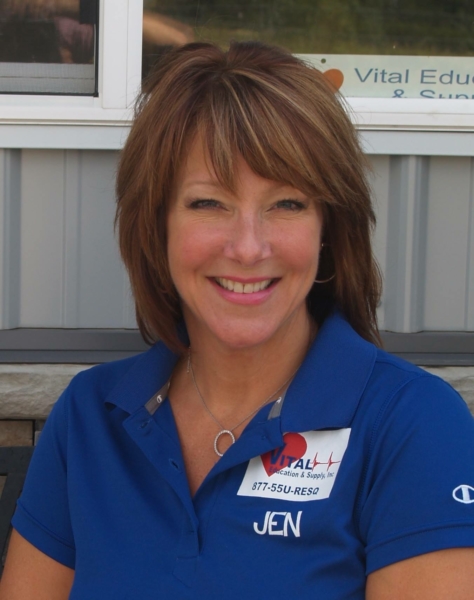 Jen Wilson is a 25-year veteran of EMS and is the president of Vital Education and Supply. Her company trains 5,000 people per year in CPR and use of an Automated External Defibrillator. Be sure to catch Jen's talk at 3:00 p.m. on Friday, April 26, at the Health & Fitness Expo in the Activities and Recreation Center (ARC). Or stop by Jen's booth at the expo.