Your Best Race Is In Sight!
Comments are off
Jan Seeley, Guest Blog Writer & Co-Director of the Christie Clinic Illinois Marathon Race Weekend
Race Weekend is six months and 17 days away! Many of you have seen our 2020 race poster reveal video (worth another view if you missed its debut). The poster declares the 2020 theme—Your Best Race Is In Sight!
What do these words mean for the team behind race weekend? What are we doing to be the best race around?
We began two days after our 2019 race (yes, we took one day off!)—reviewing every aspect of the event from top to bottom. What went well? What needs improvement? What should we add and tweak for 2020 to excite our loyal fans who come back year after year and to attract new participants? Here are just some of our plans for 2020.
Broaden local engagement
This is a huge one. With a population of almost 130,000 in the Champaign-Urbana area, not including over 44,000 undergraduate and graduate students at the University of Illinois (10,000 of whom hail from over 100 different countries), most residents are not part of our race weekend. We are developing outreach programs to involve more U of I students, more young people from our local grade schools, more folks from every walk of life. Our community is quite diverse. We want our participants and volunteers to reflect this diversity. And, don't forget our FREE childcare on April 25 at Lodgic Everyday Community, one of our great sponsors.
Implement more "GREEN" initiatives
During our 2019 race weekend, we had a Green Team for the first time. They helped us recycle cardboard; compost banana peels; recycle heat sheets, Gatorade, and water bottles; and recycle cups in the Riggs Beer Company garden. 2020 will find us starting the certification process to meet industry standards for responsible event production. We will work with the Council for Responsible Sport, which helps races like ours conduct events that won't negatively impact the environment. One fun twist we've already added for our participants is the chance to ditch safety pins for sustainable and environmentally conscious BibBoards (available in our merchandise store).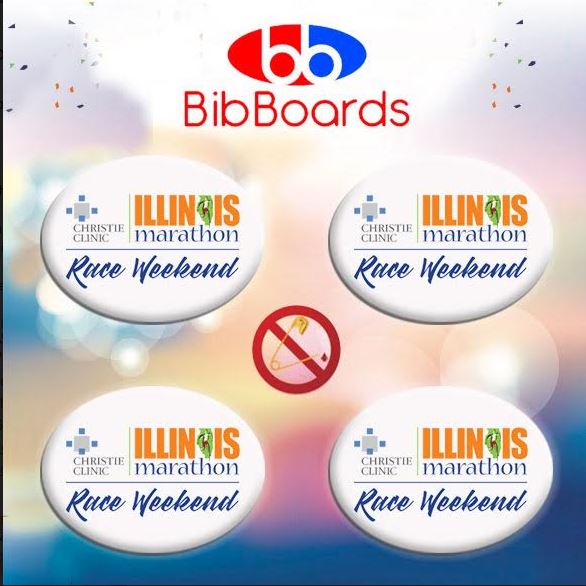 Change up T-shirt swag
After 11 straight years of technical fabric shirts (except the youth run), we're switching things up for 2020. You'll love the 60/40 cotton/poly blend shirts we're planning for each race (youth run shirts will be 100% cotton). The lightweight fabric shirts for the marathon, half marathon, relay, 5K, and 10K look and feel like soft cotton. Now you'll have a race shirt you can wear any time of day.
What can you do to be your best in 2020?
State your intention. Be bold. Register for the race of your choice as soon as possible so you become laser-focused on your training goal for spring 2020.
Begin your training now. Don't wait until January to start training. The fall is such a lovely time of year nearly everywhere in the U.S. Building a base this fall will only make you stronger once the calendar clicks to January 2020 and training begins in earnest, with 16 weeks until race weekend.
Bring some friends or family with you. Race weekend in Champaign is one grand celebration. Think of it as a reunion. Whether your friends and family are also participating, volunteering, or just cheering like mad along the racecourse, having them on your journey will deepen your joy and memories.
Raise money for a charity. Running (or walking) for a higher purpose adds soul to your efforts. Whether you choose to fundraise for one of our official charity running partners or a charity that is near and dear to your heart, doing a sport you love while helping others is a win-win for everyone.
Pace a friend who's running one of our races for the first time. Nothing will give you more satisfaction than helping a first-timer reach the finish line in Memorial Stadium.  The experience will fill you up in ways that are hard to put into words.
CU at the start. CU at the finish.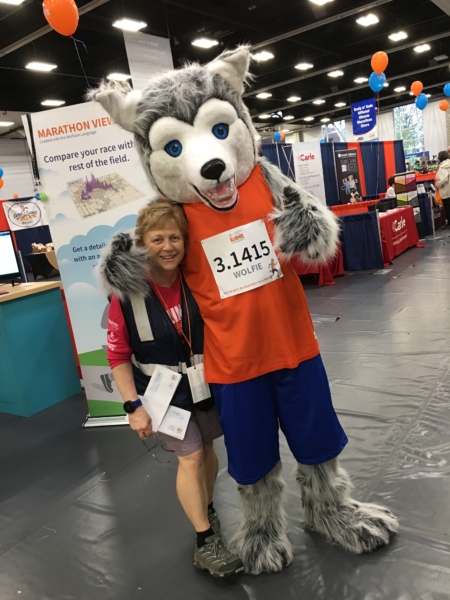 Jan Seeley is the co-director of the Christie Clinic Illinois Marathon Race Weekend. A runner for 45 years, Jan has run races from the mile up to the ultramarathon distance, all over the United States and abroad.