Lodgic Every Day Community Supports Healthy Families
Comments are off
Angela Balcor, Guest Blog Writer
I used to enjoy long runs in the morning before work. I would wake up early, leave my house when the world was still asleep, and watch the sun rise while I pushed my body to be stronger and healthier. I'd try to beat my personal time or add more distance, happily getting faster. Now, beating my time means being less late, getting a sleepy toddler and a 3-month old fed, dressed, and out the door. My morning time is still precious, and definitely leads to some kind of personal growth, but it's not really as relaxing as a run.
Getting a run in is hard to do. Luckily, I work for a nonprofit that knows how hard it can be to manage a family, keep up with life, and make progress towards our goals, and so we've created a place where families and community members can find support for all aspects of life.
Lodgic Everyday Community is dedicated to supporting working families, facilitating thriving business, and fostering shared community. Under one roof, we have a bar/restaurant called Everyday Kitchen, Clever Moose Market Café with fresh, wholesome (and kid-friendly) foods, an event hall, a coworking space with offices to foster growing professionals, and a wonderful childcare center called Kids Camp.
As part of our mission to support working parents, we're so excited to partner with the Christie Clinic Illinois Marathon team to offer free childcare on race day, April 25, 2020. Whether you're a CU local, or traveling in for the weekend, we can help! We'll be offering free childcare for pre-registered race participants on April 25 beginning from 6:30 a.m. to 11:30 am. We're just a few blocks from the race start at the intersection of First and St Mary's, and will provide childcare until 11:30. If you'd like more time, we'll be open all day until 10 p.m. and will offer the pay-as-you-go rate to our marathon families.
Kids Camp is a DCFS-licensed center with wonderful, professionally trained staff members who focus on nurturing children. They are First Aid, CPR, and Standard Precautions certified, so you'll know your children are safe and you can focus on your run. The Lodgic Kids Camp environment is designed to foster creativity while empowering children as active participants in their own learning. The classroom is strategically staged for learning, with attractive, age-appropriate, natural, authentic, and open-ended learning materials. Once the stage is set, teachers allow children to engage in deep exploration and carefully watch for opportunities to spontaneously facilitate the child's learning in authentic teachable moments.
Our classroom environment is designed for flexibility that constantly changes based on the varying needs, interests, and the individual learning styles of the children. Our wonderful team focuses on being attentive to creating positive, lasting social, and emotional competency. We aim to be ready for teachable moments that can happen at any time. Plus, while you're off getting healthier, your children's health will also be cared for; our food is nutritious, and our play-based learning is styled to be outdoorsy, hands-on, and interactive.
If you'd like to participate in Lodgic Everyday Community's free childcare option on race day, April 25, you'll need to pre-register. Space is limited and will be granted on a first-come, first-serve basis. As a licensed center, we can only care for children who are fully registered in accordance with state regulations. But we can get you registered in advance of the race so your race day is as smooth as a quick drop off before you head to your run. We're conveniently located just down the street from the race start, so you can even do a few block walk to get warmed up if you'd like.
You can download enrollment packets here:
Learn more at https://www.lodgic.org/kids-camp-membership-plans
You can sign up for the free spots using our form, at https://forms.gle/ay3JuJfXM5J4KqX99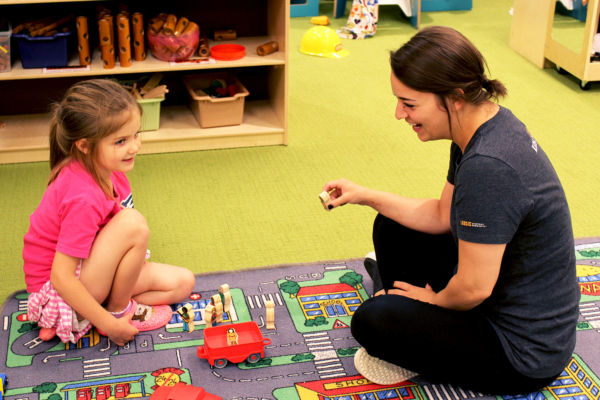 As Community Engagement Director at Lodgic, Angela Balcor enjoys applying her background in community development and nonprofit coworking to support Lodgic's growth. She has lived in CU for just over a year, and loves exploring the welcoming community on foot and alongside her delightful husband, two-year old son, and three-month old daughter. If you want to say hi, you can find her at the Monday night parents' running club through Second Wind Running Club, and if you do, please high five her because she's running instead of napping.