Wrapping up 2020, Welcoming 2021!
Comments are off
Jan Seeley, Guest Blog Writer & Co-Director of the Christie Clinic Illinois Marathon Race Weekend
This post brings the welcome news that registration for our 2021 race weekend next April 29 to May 1 is OPEN for business. More on 2021 in just a bit. First, some final comments about 2020.
What a surreal time this has been for everyone. Seemingly overnight, the running industry ground to a halt. Races large and small toppled. Berlin was the first Abbott World Marathon Major to cancel, followed by Boston in late May, and New York just last week. In the month of March and April alone, over 7,600 events were cancelled or postponed, impacting over 3.5 million athletes and $300 million in registration fees. Virtual events have become the norm.
Our race weekend in Champaign-Urbana suffered a similar fate. Thankfully, we were able to offer several great options to our 2020 entrants. At the time of the cancellation, we had about 10,000 registrations. Nearly 70 percent of our 2020 entrants opted to return in 2021 with a 100% registration credit; 25 percent opted to complete their 2020 races virtually; and a final 5 percent pushed their comp entry to our 2022 race weekend.
Our 2020 entrants returning in 2021 to finally run and walk their races will hold a special place in our hearts. We can't wait to share with them the unique hybrid race shirts they'll receive, featuring the 2020 race logo on the front and a unique 2021 race logo on the back. We will also "gift" these entrants the 2020 finish medals they should have received this year. I-Challengers will have quite a medal haul next year.
Our 2020 entrants have been busy registering for our 2021 race weekend these past few weeks with their comp codes. How bizarre to open our 2021 registration to the general public and have over 5,000 people already registered.
So what's new for 2021?
Here are a couple of items (more to come in future blog posts!).
Remember the 2021 theme contest we had back in May? We received almost 300 submissions. Thank you! We've picked the winning theme, and it's awesome. We'll have a big announcement about our 2021 race theme later this month, so stay tuned for that, along with the unveiling of our 2021 race poster featuring the theme.
Ready for four more I-Challenge events? We added the Green Street Mile event to our 2020 offerings too late in the year to incorporate the mile into an I-Challenge, so we're excited to let you know we've added four new I-Challenge events to the slate of events for 2021:
Triple Full I-Challenge = Mile + 5K + Marathon
Triple Half I-Challenge = Mile + 5K + Half Marathon
Triple Marathon Relay I-Challenge = Mile + 5K + Marathon Relay
Triple Mini i-Challenge = Mile + 5K + 10K
If you want to compete in a Triple I-Challenge event, do not register for three races separately. Instead, register for three races at once by choosing one of the Triple I-Challenges.
Triple I-Challengers will receive all the swag that comes with the mile, 5K, and your third race plus a bonus Triple I-Challenge medal. Bragging rights for 2021 just got a bit braggier!
If you're planning to run or walk or roll in one of our events in 2021, be sure to take advantage of our EARLY BIRD prices, effective through 11:59 p.m. on July 15.
Ready. Set. Register.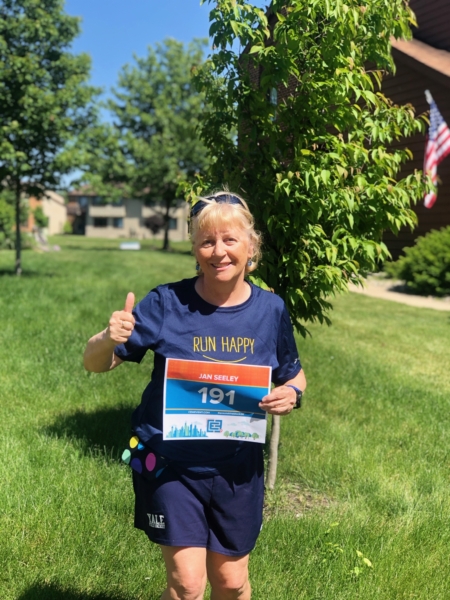 Jan Seeley is the co-director of the Christie Clinic Illinois Marathon Race Weekend. A runner for 46 years, Jan has run races from the mile up to the ultramarathon distance, all over the United States and abroad.