We All Make Mistakes – Abe's Log
Comments are off
Look, we've all been there. We've all made mistakes in life. Like that time when I was little, and I ran across the newly waxed linoleum floor in the dining room. How was I to know my footprints would be there for months afterwards? Mom was P-Oed.
In running, mistakes happen all the time. We go out too quickly. We go out too slowly. We forget to use the porta potty before the race. We eat too much the night before the race making us beeline to the porta potty during the race.
What is a new runner to do? You've signed up for one of the races at the Christie Clinic Illinois Marathon (CCIM). What are you going to do, sit there the night before the race and worry? Yes. You should worry. You should be nervous about tackling one of the biggest running challenges you'll face. Like I said, we've all been there. Even the most experienced of us.
I asked friends on Facebook to relate some of their stories of mistakes they've made at races. Take a look and learn from them.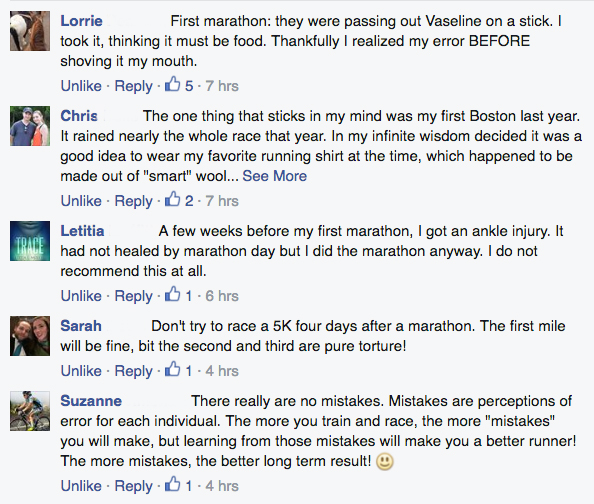 My mistake? I've made many, but one comes to mind. It was one of the Indianapolis Monumental Marathon races, and I'd packed my gear as usual: shoes, shorts, shirt, visor, and water bottles. I wake up race morning and get ready. I put on my shorts, and I'm like, "Man, these shorts are tight. Babe, I don't remember them being this tight," I say to my wife. "Did you put my shorts in the drier or something?"
"Those are my shorts," she said.
Panic. Absolute panic. It's 45 minutes before the race. Where am I going to find a pair of race shorts? Thankfully, my friend Chris was at the race and he happened to have an extra pair of shorts that fit. A quick jog to his hotel saved the day! Thanks, Chris!
Know this, new runner or experienced marathoner… You will mess up. You'll forget your bib. You'll put your shorts on backwards. You'll wear those unbroken, new shoes you bought at the Expo during the race. This week, consider some of the things that could go wrong because something will go wrong. Make contingency plans, but just roll with the punches. You'll be fine. Breathe.
See you on the roads!
Abe