Training During Illinois Winters: Part 1
Comments are off
Craig Virgin, Guest Blog Writer
In my nearly 50 years of distance running (more like a jog/hobble/walk nowadays!) I learned early on that my training progress and race performances had as much to do with the weather as they did with my fitness level! Except for my four years as a student-athlete at the University of Illinois, all my training and racing was conducted outdoors. I had no access to an indoor track!
Growing up on a family farm, I found that keeping track of then adapting to the changing weather just became a way of life. The weather had a direct and undeniable impact on my running as well as our family income! You can't beat Mother Nature—you have to simply learn to adapt to it.
If you commit to training for a marathon or half marathon in the spring, then you have to adapt to doing most of your serious pre-race training in the cold and (sometimes) snow/ice as well as shorter daylight of the winter. Not many people can train midday when it is the warmest!
When a weather event as big as the recent "polar vortex" sweeps down from Canada, it can negatively impact all Midwestern runners! Two weeks ago, every resident in Illinois experienced the coldest weather since 1982. Temps varied from 0 degrees to -25 degrees even without the wind. Chicago battled a wind chill factor of -50 degrees! Much of Illinois was also dealing with a blanket of snow and ice as well. These were dangerous and even life-threatening conditions!
The Christie Clinic Illinois Marathon, Half Marathon, 10K, 5K, and Marathon Relay are in late April so you are effectively now within the critical 100 days of training period before the competition. Dedicated and consistent training during this window of time is imperative to having a successful race in April. So, what is a conscientious runner to do to have consistent training during an Illinois winter?
Your goal here is to not lose much of your fitness base because just "maintaining" fitness for just a few really bad weather days is not really such a terrible thing. You might just need some rest. Especially if you are really tired, a little sick, or have extremely sore muscles or joints. And, these periods of extremely harsh weather are usually short lived, lasting for only a few days at a time before moderation returns. As frigid as it got on that terrible Tuesday through Thursday, the entire lower half of Illinois was experiencing weather over 60 degrees by the very next Sunday!
Even in the winter, it is still possible to run outside most of the time. 10 to 20 degrees can still be comfortable for distance running if the sun is out and there is not much wind. Keep in mind that you don't want to be completely warm and comfortable at the start or you will overheat after a couple miles when you warm up.
Remember to wear two to four light layers on top—performance fabric against the skin, absorbent fabric singlet to cover your core on top of it and then a warmer top with maybe an outer layer vest of a windbreaker material if really cold/windy. Bicyclist-type running shorts under sweatpants or leggings is usually enough if you are running. Your legs never get as cold as your other extremities! Finish off with a warm knit cap that completely covers your head and ears as well as thicker gloves or mittens on your hands.
Always remember to wear light colored clothing, a reflective vest, or blinking LED safety lights if training in the dark early morning or late dusk!  Also, it helps to put plenty of lotion, sunscreen, or even Vaseline on your face as the cold and wind can damage or even frostbite exposed facial skin in the worst windchill conditions.
If the conditions are really bad, then consider having someone take you out in a car and drop you off so that you can run point to point back home with the wind at your back! If that is not available, then I heartily suggest at least going out against the wind so that when you get wet from sweat in the second half of the workout, you are returning with the wind at your back and then you will not get overly chilled and potentially sick! If it is snowy or icy, then you need to consider purchasing a traction aid for your training flats, something like Yaktrax that slip on your shoes and give you better/safer traction on slippery streets. (Just don't wear them on your custom hard wood floors!) Finally, training with a partner or a group always makes bad conditions more palatable and gives you somebody to complain to.
Once it gets down to single digits or below 0 degrees, it may be slightly dangerous to run outside. Then you need to consider moving your workout indoors. If you wish to run and happen to live in the Champaign-Urbana area, you can purchase a pass to run on the indoor track in the U of I Armory or at the ARC Building. You will have to do multiple laps to get three to 10 miles of endurance training in, so it is nice to wear a music/radio device with earbuds and set your sports watch to time yourself as it is hard to keep up with the mileage by constantly counting multiple laps, unless you have a "hand clicker/counter."
I would suggest that you also consider alternating directions (clockwise and then counter clockwise) every mile or so, if the facility allows that. This indoor track option can certainly help you "maintain" your fitness level for two to three days, even if you don't improve it much.
Come back to this blog space next week and I will share some tips on indoor "cross training" at a gym when the weather gets really awful this winter.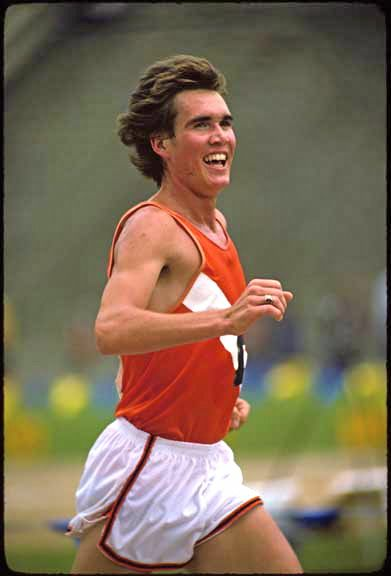 Illinois native son Craig Virgin is the featured celebrity runner and guest speaker at the 2019 Christie Clinic Illinois Marathon Weekend. It will be a homecoming of sorts for Virgin, who is a member of the inaugural University of Illinois Athletics Hall of Fame class. Virgin competed at the highest level for the Fighting Illini from 1973-1977 and then went on to an outstanding world-class running career over the next decade or so after graduation. Many of Virgin's top high school and college races were run around the old Memorial Stadium track and field where the CCIM events now finish. Virgin was a three-time Olympian in the 10,000-meter event.