The Race Where It All Started
Comments are off
Morgan Mahn, Guest Blog Writer
If you had told me back in 2015 that in just three years' time I would be a proud finisher of over 13 half marathons, eight marathons, eight ultramarathons, and be planning a trip to run another marathon in Berlin, Germany, I would not have believed you. In fact, at that time, running anything more than one mile seemed impossible.
You see, back in 2015 I was a sophomore in college who still had the mentality of a high school football player. I thought I could eat whatever I wanted, workout whenever I wanted to (which got less and less frequent as the years after high school went on) and be fine. That's what I had always done. And most of all, I thought running was stupid. That was something that soccer players and weird cross-country runners did, not "cool" people.
In my pursuit to be one of the "cool" people in college, I proceeded to join a fraternity and take in the experience fully. I made sure to attend as many social events as I could between classes. I made sure to get the most out of my meal plan as well. No point in letting those meal points go to waste, right? As a result, I was taking in a whole lot of calories from nights out drinking, and those mornings after, eating lots of hash browns, eggs, and bacon or grabbing a breakfast sandwich, or two, on the way to class. Not great.
Around April of 2015, all of my shenanigans really started to catch up with me. I remember going to the doctor for annual physicals and have a rough estimate of what my weight was at its heaviest, and I believe it was somewhere around 250 pounds. Over the course of the next six months I really started to focus on my diet and cut down on the drinking and junk foods. I tried to utilize the weight rooms on campus, mimicking some of the training we had done back in high school football, but I wasn't really running.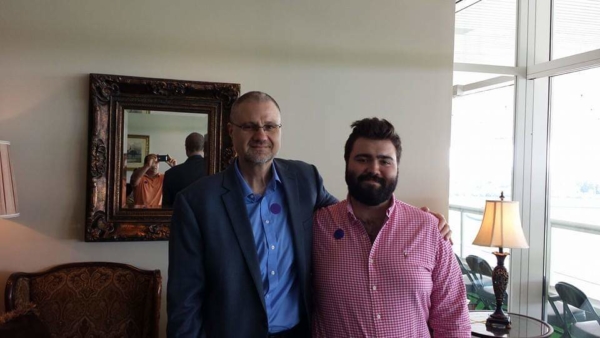 Fast forward to 2016, and I looked like a totally different person. I was down 70 pounds, and generally feeling a lot better physically and mentally. As well, I remember seeing ads for the Christie Clinic Illinois Marathon race weekend somewhere near this time. I considered signing up as a way to challenge myself.
I reached out to one of my fraternity brothers who I knew ran and asked him if he thought I'd be able to finish a 5K or even a 10K race. His response has shaped some of the early philosophy I had around running; he said, essentially, "Dude, just sign up for the half marathon. There's no point in doing anything shorter." The heart of his message was if you're going to challenge yourself, really challenge yourself (no disrespect to 5K or 10K runners 😊).
Long story short, despite some gnarly rainy weather, I ended up completing my first half marathon in April 2016. It was truly a life-changing experience. The support I remember receiving all along the race course was unlike anything I had ever experienced before. Even in nasty, rainy weather, people from the surrounding communities were out in full force cheering on runners. Those spectators helped carry me along a journey of 13.1 miles. Little did I know, however, that this journey would be a whole lot longer than 13.1 miles.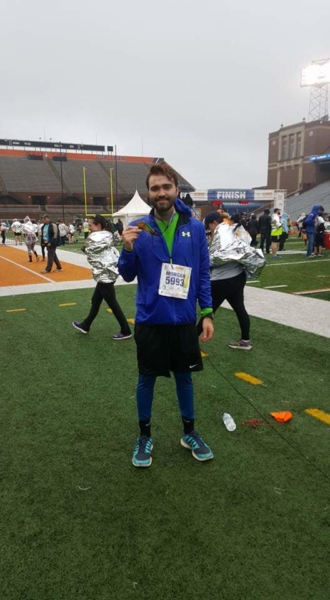 I proceeded to carry on with my running after that first race and have now had quite my fair share of interesting experiences at races all of the United States. The Illinois Marathon helped inspire me to run the Chicago Marathon twice, the New York City Marathon, and even a 100-mile trail race in February of this year.
As great as those races have all been, I find myself coming back to the Illinois Marathon year after year. I have returned to run this very race, where it all started, an additional three times, completing the marathon distance each year following that first half marathon in 2016. In fact, I even ran a Boston Marathon qualifying time this past year in 2019!
I can't wait to come back to Champaign-Urbana in 2020 to enjoy a race that has quickly become my favorite event, and one that brings me back each year. I hope I'll see you out on the course as well! I'm excited to see where your running journey make take you.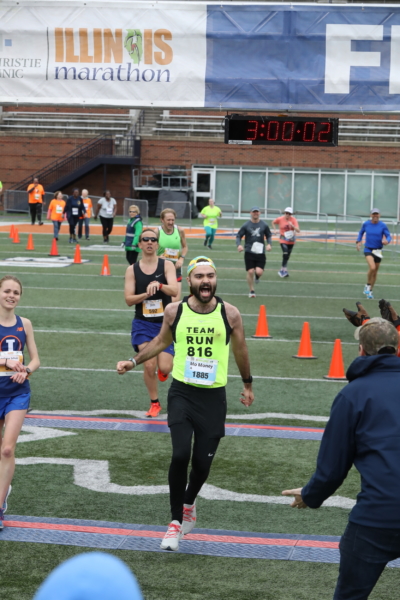 Morgan Mahn is a 24-year-old University of Illinois graduate currently living in Kansas City, Missouri. He has successful participated in four straight Christie Clinic Illinois Marathon race weekends, including a Boston-qualifying marathon time of 2:59:54 in April 2019.