Run For Charity – Abe's Log
Comments are off
Us runners, we're a caring sort. Each year, thousands of us raise millions for charities in events around the country. For this year's Christie Clinic Illinois Marathon (CCIM), I'm raising funds for my most favorite cause: the Champaign County Humane Society (CCHS)
I owe a tremendous debt to the CCHS. Without them I would never have been introduced to Evan (renamed Jackaroo).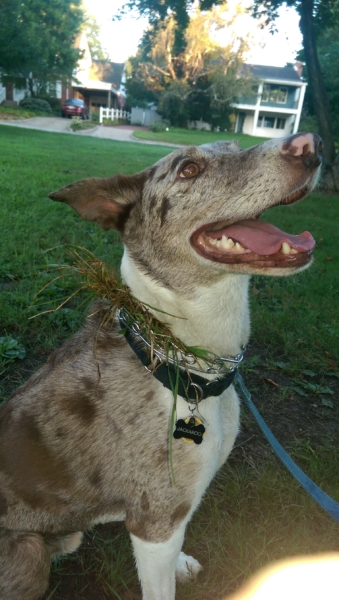 Way back in 2011, my wife and I decided it was time to bring in a new member of our family. A year earlier we lost our first dog to kidney disease, and we decided that it was time to open our home to another. Enter Jackaroo
He's the smartest dog I've ever known, and I know that had the CCHS not taken him in, given him the medical care, food, and shelter he needed, I would be missing out on a great running partner. I have just begun tracking Jackaroo's miles, but he must have run thousands of miles over the years. In January of this year alone, he logged 82.1 miles. Needless to say, the CCHS gave me a one-of-a-kind friend, and I can't do enough to give back to them.
This year, the Christie Clinic Illinois Marathon has partnered with 16 charitable organizations for which runners can raise funds. Those organizations are as follows:
Autism Center at Eastern Illinois University
Big Brothers Big Sisters of Central Illinois
Breast Cancer Research Foundation
CASA (Court Appointed Special Advocates)
Champaign County Humane Society
Girl Scouts of Central Illinois
God's Littlest Angels She Said Soul Journey
National Kidney Foundation of Illinois
What is the impact of your raising funds for one of these charities? I spoke with Ashley Lovell of Crisis Nursery. She notes about how important these fundraisers are to her organization, saying, "The funds help with staffing and program costs so that Crisis Nursery can ensure safety for children and provides support to families in crisis 24 hours a day, 365 days a year. In 2016, we had around 40 runners who raised over $13,000, which exceeded our goal of $12,600–enough to support one week at the Nursery. All of our programs are free so we rely heavily on volunteers, donations and fundraising."
Raising funds is easy and rewarding! Find a cause you are passionate about, set a fundraising goal, then contact friends, neighbors, other runners, co-workers, and so on with targeted, personalized communications. Posting to social media works, too.
I've set a goal of raising $1,310 for the CCHS. Here's the link if you'd like to give. In seven days, I've already raised $763. I'm 58% of the way to my goal, and it feels great knowing my work is having an impact.
I hope in the lead-up to this year's CCIM you will consider raising funds for a cause. The impact of your efforts is profound, and charities like the Champaign County Humane Society are indebted for your support.
See you on the roads!
Abe