My Second Chance at Life
Comments are off
Calvin Jordan, Guest Blog Writer
The year 2012 started out like most years, that is, uneventful, and went into July as being about the same as every other year. But this July is when life just about ended for me. July 3, 2012, was the day that changed my life.
It was the day before my 53rd birthday. I got ready for work as I normally do and looked at the time—I was running a little late. I started running around the house getting everything that I needed. I ran upstairs twice to get something and then ran downstairs into the basement to get the cake that I was taking to work—a big flat sheet cake. I put the cake in the passenger side of the car and went to the driver's side to get in. I opened the car door and that is when it hit. The chest pain was something that I will always remember. It felt like an elephant was standing on the center of my chest. The pain was so strong I thought I was going to throw up.
I leaned against the car and realized that I was having a heart attack. I went back to the garage door that I just exited and entered the code to get back in. I went upstairs and woke up my wife, Jeanne, to tell her. She started to call 911 when she found out our house phone was not working. She grabbed the cell phone and dialed 911. After that, she went and got me an aspirin. That did nothing.
The ambulance got to the house within five minutes, and three paramedics started working on me. They put the heart monitor on and asked me if I had ever had a heart attack. I told them no. Well, the paramedic told me, you are having one now. I found out later that they can tell this from the heart monitor. The paramedic gave me an aspirin and a nitro pill. Five seconds later he asked me how much pain I was in, from 1 to 10. I told him the number was a 20. He gave me four more nitro pills before we left for the hospital. The paramedics worked on me for about 10 minutes, and it took another five minutes to get to Silver Cross Hospital here in New Lenox, Illinois. It had probably been about 20 minutes since the first symptom started.
The ER doctors and nurses were working to find out how severe a heart attack I was having. When they realized I was having a major heart attack, they immediately sent me up to the catheter lab. Another five minutes passes.
In the cath lab everyone was working around me, hooking up machines. The nurse by my head was telling me that I was going to be OK, that the doctor is one of the best. I was looking around and I can see the monitor that had my vitals on it, including my heart rate. As I was looking at the monitor, I saw that one of the lines went straight. It was not going up and down anymore.
That is when I got light headed. I mentioned something to the nurse about the monitor, and then she yelled "code blue." Things started to get really fuzzy; my eyesight was failing and I started to black out. I knew I was dying. When my heart stopped, the pain level went to zero.
A lot of stuff went through my mind at that moment. I thought about my Dad, my Mom, my sisters, my other half, Jeanne, and every person that I have ever met. It is something that for a few seconds the mind can act so fast. I thought about all the kids; when I got to my grandkids, A.J. and Alex, time stopped. I could see them very clearly and I started wondering if I was ever going to see them again. I knew that I only had a second left. I told God, hey, it looks like I'm coming up.
The next thing I remember is the nurse yelling at me. I was wide awake and she told me that they had brought me back. I'm lying on the operating table and I started to cry. The nurse said, "you're going to be OK." At that moment the only thing I was thinking about was Alex and A.J. I asked her if I would see my grandkids again and she said yes.
The doctor and nurses where fantastic and got the blockage opened up with a stint. The stint was put in my left receding artery, which was 100 percent blocked. I was taken to a recovery room and then moved to a regular hospital room that afternoon.
I was lying in bed when my daughter, Rachael called. She is an Army Captain. She was very worried about me and my health and suggested that we run the Army Ten Miler in the fall of 2013. I said OK, not knowing how much training I would have to do, and even before that started, I would have to do heart rehab at the hospital. I talked to the doctor the next day when he came to my room to check up on me. He told me that they needed to do another surgery, this time to fix the right artery. It was 90 percent blocked. That would happen in 12 days. I said OK let's get this done. I have grandkids to see and the Army Ten Miler to do.
The doctor was skeptical about me taking on something like a 10 miler. I followed his suggestion and didn't start working out for six months other than doing cardiac rehab. I did my cardiac rehabilitation with trained nurses while I was hooked up to monitors. Once I completed that and my heart showed improvement, the doctor gave me the go ahead to start training but urge me to go slow.
I trained for six months and then October was here, and I was in DC at the start line for the Army Ten Miler with my daughter, Captain Rachael Neff. It was awesome. We started out slowly because I was having problems with my right ankle. Seven miles in I could not run at all because my ankle swelled and I could not put pressure on it. That was my first major run. I was disappointed that I could not finish the race, but I still had fun with my daughter.
I kept up my training. I started going to more runs with the club I joined—the Frankfort-New Lenox Running Club. Then one day our run leader, Susan, asked me to tell my story to a woman named Anita. As I finished my story, she looked at me and said she was the nurse that yelled code blue on that fateful day in 2012; she was the one that hit the button that shocked me back to life. I looked at Anita and that is when I recognized her. We are best of friends now. Anita is also part of Race Guards, medical staff who run in races.
In 2015 I completed my first 10-mile race, the Soldier Field Ten that was run along on the Chicago lakefront. Anita helped me finish my first half marathon. I believe the name of the race was Volition America Half, which was also run on the Chicago lakefront; Anita was one of the race guards that day.
I have since run many races. My first marathon was the 2017 Christie Clinic Illinois Marathon, which I finished in 5:20:07, which is my PR. While not blistering speed, I did it! I have run two additional marathons and one 50K ultra since my heart attack in 2012.
I am signed up for the Full I-Challenge (5K + marathon) at the Christie Clinic Illinois Marathon Race Weekend in April 2020 in Champaign-Urbana. Come run with me. C-U there!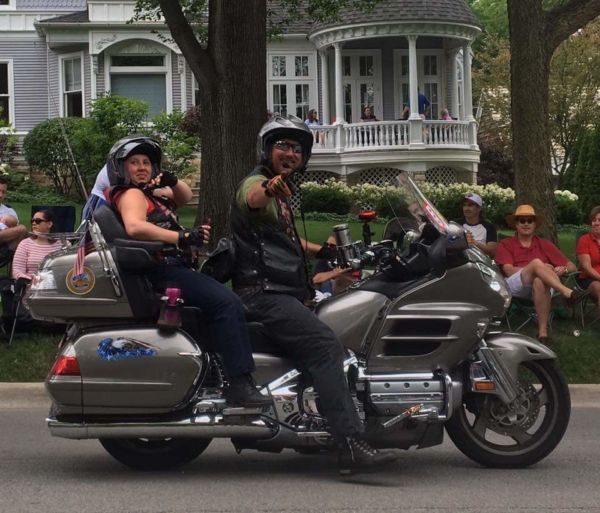 An Army veteran, Calvin Jordan is race ambassador for the Christie Clinic Illinois Marathon and enjoys running marathons and ultras. An avid motorcycle enthusiast, Cal belongs to the American Veterans Motorcycle Riders Association. Since suffering a heart attack in 2012, Cal has become CPR certified.