Introducing Nuun Endurance
Comments are off
Guest blog from the team at Nuun
Note: Nuun is the official hydration partner of the 2020 Christie Clinic Illinois Marathon. Nuun Endurance will be served on the race course. Nuun Sport will be served postrace.
Ready…Set…GO longer, stronger! Introducing Nuun Endurance, the new long-distance hydration formulation for support during those long-haul sweat sessions. Nuun Endurance comes in a powder drink-mix form stored in a newly designed airtight canister. We are excited to offer our newest product in four fresh and delicious flavors: Mixed Berry, Lemon Lime, Citrus Mango, and CAFFEINATED Strawberry Lemonade (25mg caffeine per serving). Each scoop is mixed with 16 ounces of water. Just scoop, mix, drink, and be on your way!
Nuun Endurance was created using the latest in hydration research to develop a solution that utilizes a specific combination of electrolytes + carbohydrates that deliver optimal hydration benefits. When your body is active and sweating for 90 minutes or more, its physiological needs begin to change to support continued performance. Nuun Endurance was designed to deliver only the minerals and nutrients that your body needs (at highly absorbable ratios) during these efforts. This ensures that you stay hydrated without the "residual carbs" left in your system that can lead to stomach rot or GI distress.
For longer workouts (90+ minutes), carbohydrates become much more important in the role of fluid circulation. Carbs bind to electrolytes and facilitate absorption into the bloodstream. Nuun Endurance used multiple carbohydrate and electrolyte sources that are absorbed by different pathways in the body. This prevents the overload of one transport (or absorption) mechanism and unnecessary fluid build-up in the stomach. Our newest formulation strikes a balance between the electrolytes you need for performance and the carbohydrates you need for sustained energy and absorption (note: while Nuun Endurance does contain carbohydrates, they are not meant to replace fuel supplementation during long-distance exercise. See chart below for Endurance + fuel recommendations)

One of our new flavors (Strawberry Lemonade) was formulated to include 25mg of caffeine per serving, sourced from organic green coffee beans. We've included caffeine in the Endurance product at lesser amounts (25mg per serving vs. 40mg per serving in caffeinated Nuun Sport) due to the relative timespan usage. Since Nuun Endurance athletes are likely to consume multiple servings over the course of 90+ minutes of exercise, the caffeine consumption will accumulate slowly and ultimately serve the body more effectively with a slower, sustained source of energy vs. a larger more immediate spike.
Nuun Endurance will replace the legacy product: Nuun Performance. We are excited to announce many upgrades in the product that are sure to be crowd-pleasers. First, we've dramatically updated the taste of our new endurance product. The bright, fruity, organic flavor of Nuun Endurance is one of its most exciting features. It's so tasty, you'll be craving an excuse for a 90-minute sweat-sesh! Also, we're excited to announce updated packaging: an airtight canister. Nuun Endurance is a powder drink-mix, but now comes in a more stable container to prevent any hardening or clumping in hot or humid conditions.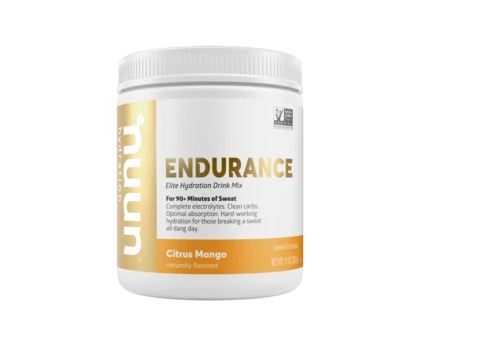 When you're planning on breaking a sweat all dang day, Nuun Endurance is your ultimate hydration solution. With complete electrolytes and clean carbohydrates, our elite drink mix is made with 100% plant-based ingredients and is non-GMO verified…keeping you on your A-Game all the way through the finish line.
Make every mile count with Nuun Endurance.