Going Against the Grain with Whole Grains: The Kodiak Cakes Story
Comments are off
Jeff Sorenson, Guest Blog Writer
You might've met Kodiak Cakes' friendly staff serving up delicious samples of protein-packed flapjacks at your last race or just noticed their distinct packaging on the shelf at your local grocery store and wondered what this small natural food company is all about. Well, with Kodiak Cakes being the best-selling whole grain pancake mix in the nation, that's an excellent question! Kodiak Cakes made its first big debut when the company's founders, Joel Clark and Cameron Smith, made an appearance on Shark Tank back in 2014. That short appearance proved to be enough to make Kodiak Cakes Buttermilk Power Cakes the best-selling pancake mix in Target, and the small brand has only grown since then.
Kodiak Cakes, however, was by no means an instant success. The origin of Kodiak Cakes can be traced back to the day an 8-year-old Joel Clark, Kodiak Cakes' founder and CEO, loaded up a little red wagon with his mother's heirloom flapjack mix to sell to friends and neighbors. It didn't take Joel long to return with an empty wagon and plans to build a company around his mother's whole grain pancake mix. That was back in 1982, and it wouldn't be until 1994 that Kodiak Cakes would be founded. Joel worked hard through the years building the company alongside his brother Jon, but it wasn't until 2009 when a young Cameron Smith joined Kodiak Cakes that things really started to take off.
Today, Kodiak Cakes is based out Park City, Utah, where the company still crafts each new product as if it were a delicious family recipe specially prepared for friends and neighbors.
Kodiak Cakes brought nourishment from real ingredients to a category of foods saturated with enriched white flour and empty calories. Kodiak Cakes' commitment to 100% whole grains, protein, and non-GMO ingredients makes their foods reliable sources of clean, long-lasting energy perfect for training, race day meals, or for those of us just looking to adopt a healthier diet!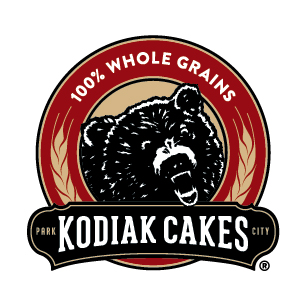 Exciting news: Kodiak Cakes is sending 10,000 boxes of Kodiak Cakes for FREE distribution at our expo. Don't miss the chance to get your box on April 25 & 26 at the Activities Recreation Center, 201 East Peabody Drive, Champaign, where the expo takes place.