Alma Mater Still Going Strong at 88!
Comments are off
From the Desk of Co-Race Director, Jan Seeley
No Illini is more famous than Alma Mater, the bronze grand dame whose presence graces the corner of Green & Wright streets. American sculptor and University of Illinois graduate Lorado Taft cast Alma in 1929—her official birthday is June 11, 1929, the day she was dedicated—and she's still looking gorgeous at age 88. Materials used to cast Alma were paid for by donations from the Alumni Fund and the classes of 1923 to 1929, with time donated by the sculptor.
If you're running our event this April for the first time, be sure to visit Alma while you're in town. Your visit won't be complete unless you do so. Her arms are outstretched, and she can't wait to welcome you.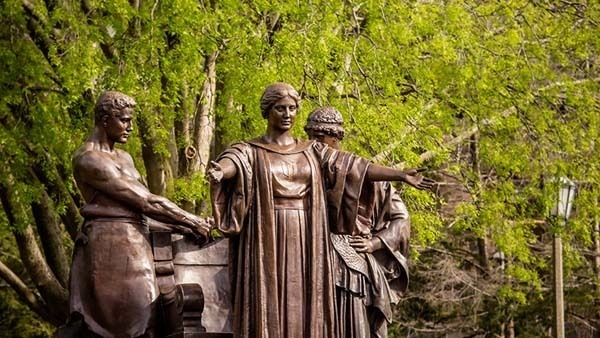 Those of you running the marathon or half marathon on April 22 will run right by Alma (she'll be on your right) as you head east on Green St. out of Campustown.  Alma will be wearing her own super-sized race number. Yup, you guessed it# 1867! Alma is 13 feet tall and weighs 10,000 pounds!
Taft envisioned a sculpture that students could climb upon; in fact, clambering onto Alma, sitting on her thrown, hanging off her arms, and other shenanigans are deep-seated traditions here at the U of I. Your education isn't complete unless you had some fun with Alma.
Every year at graduation, starting in 2010, Alma dons her own graduation cap, gown, and stole. She wears a petite size 100 gown—custom-made by local cap and gown company Herff Jones.
The number of students who get their picture taken with Alma during Commencement week is too many to count. There's a line every day from the time U of I staff dress her in graduation regalia at 8 a.m. until they come back each night to remove it when darkness moves in!
Donning graduation garb isn't the only wardrobe change Alma has experienced. Over the years, she's been known to wear beach attire, an Illini basketball jersey, and in 2008 she was decorated with red, orange, and blue roses to recognize the Illinois FB team's appearance in the Rose Bowl.
For the first 33 years of her life, Alma lived on the south campus behind Foellinger Auditorium, but she was moved to her current location near Altgeld Hall in 1962. This move was not without controversy. One angry student reporter from the Daily Illini thought the new location was "cheap and tawdry" and "a violation of all standards of good taste."
Over the years, Alma's bronze finish turned to a natural green patina, but she also became tarnished and corroded, so in 2012, she took an 18-month spa visit to a studio in Forest Park, IL, where she was restored and refurbished. That extensive face lift—she was completely dismantled and cleaned, and had more than 1,000 bolts replaced—carried a hefty price tag of $360,000—more than triple the original estimate.
Alma came back to campus right before our April 2014 race weekend, restored to her original bronze finish. The university set up special bleachers to accommodate everyone who came out to welcome Alma home. It was epic!
When Alma turned 85 a few years ago, the University celebrated with cake and a large party, and Larado Taft's granddaughter even came back to help us honor her!
Alma is so beloved on campus a 24-hours-a-day, 7-days-a-week CAMERA is pointing right at her. Check out the Alma Cam at http://illinois.edu/about/almacam.html
The granite base of Alma has an inscription that says:  To thy happy children / of the future / those of the past / send greetings